Battle 205 is also called "Don't Lose Even if you Die"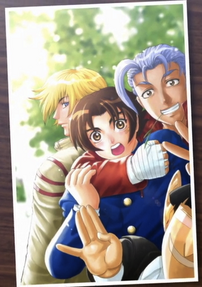 The hostess attacked a guard for sneaking up behind her when he was just telling her that she's been summoned.
At the arena, the Shinpaku Alliance were amazed on how Takeda defeated Member J. Akisame explained that the Giant Cat Eye Frog Punch Takeda used was called that, since Shiba likes to collect pets. Akisame informed everyone that he finished the surgery for Mizunuma in 5 minutes. Takeda wanted to do another fight despite warnings from Kisara. Suddenly, the leader forced J to commit suicide by shooting himself for losing. Suddenly, Kenichi jumped into the ring to stop J and persuaded him that losing wasn't the end of the world. One of the other members of the Black Force was about kill J until Thor stepped in and almost hit him.  Three members of the Black Force Team attacked without warning outside the ring, but were easily taken by Thor with Thor's Hammer. Thor was about to attack the leader, but was stopped by Freya who showed the steel wire that Thor almost got sliced by. Takeda wanted to fight the leader, but Freya told him that since he uses a weapon, she took over. Diego then changed the stage by raising some pillars from the floor so that the weapon user could have an interesting battle.
Characters that Appeared
Edit
Battle(s)
Edit
Chapter Notes
Edit
James Shiba likes to collect pets
Cover illustration was used for the 4th ending of the TV series.