Kin Dou Chou jumped in the ring to help his teammate but was defeated by Ethan Stanley right away. He is a member of the Nanken team and the partner of Dou Kokyoku.
AppearanceEdit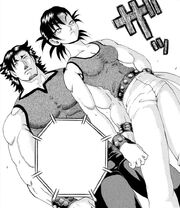 PersonalityEdit
Kin Dou Chou got in the ring only to be brutally attacked continuously by Pollux. He was then stopped by Castor; since he was suppose to follow her plan of her pretending to lose before Pollux can beat him up.
Plot OverviewEdit
AbilitiesEdit
Ad blocker interference detected!
Wikia is a free-to-use site that makes money from advertising. We have a modified experience for viewers using ad blockers

Wikia is not accessible if you've made further modifications. Remove the custom ad blocker rule(s) and the page will load as expected.