Hi, welcome to History's Strongest Disciple Kenichi Wiki! Thanks for your edit to the Miu Fūrinji page.
Please leave a message on my talk page if I can help with anything! -- FanOfManyAnime (Talk) 02:08, December 31, 2011
he's alive i read the news History's Strongest Dicsiple Kenichi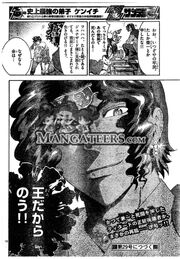 Chapter 477 I readed it or tryed to read it.
Told u so that he was alive the Elder saved him i guess i cant read Japanese.
Farting pictures
Edit
Talk to User:Sage94 about this subject. I'm just a passerby doing what I think is wright. I don't really think it should be taken off if it really happened though.Chidori1,000 (talk) 00:53, November 13, 2012 (UTC)